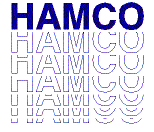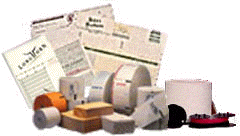 ---
Direct Info Request
---
Tufco Technologies invites your electronic information requests via the internet. The information you provide will be forwarded to the Hamco dealer nearest you, and you will be contacted by that distributor promptly. A Hamco product distributor is your source for the printed rolls and documents that keep your business in good form. Choose from our full line of quality business-related paper products:
Rolls for point-of-sale (POS), cash registers, and adding machines. One, two and three ply rolls available.
Thermal and fax papers in stock. Used in fax machines, calculators, lab testing equipment, cash registers, point of sale (POS), and medical equipment. Printed rolls and colored rolls for special applications.
A complete line of business forms.
Guest checks for restaurants.
Banking papers for teller terminals, proofing machines and automated teller machines (ATM). Self-contained, bond and carbonless papers available.